CIS/CIGS Thin-film module cost should benefit from Solar PV manufacturing equipment improvement in the coming years.
CIS/CLGS equipment makers improved solar cell efficiency dramatically and help CIS/CIGS solar PV manufacturing module cost reduction significantly in 2010. According to PVinsights market survey, lots of solar PV players have been using the innovative and advance CIS/CIGS with stable 10% plus conversion efficiency in 2010. With the stable higher than 10% conversion efficiency rate, CIS/CIGS solar module can easily produce their thin-film module with lower than USD1.2 per Watt. The cost structure does provide a good cost competition position in the PV market so that lots of solar PV players showed the interesting of adopting CIS/CIGS technology. However, the initial investment of CIS/CIGS manufacturing equipments is too expensive to be affordable for most of the traditional solar PV players. The CIS/CIGS investment is affordable to the semiconductor or LCD manufacturing makers, and several semiconductor or LCD companies invest their money on CIS/CIGS solar PV module manufacturing last year. CIS/CIGS solar PV players and equipment providers will continue to enhance their CIS/CIGS know-how to have better cost structure in the future. PVinsights forecast that CIS/CIGS solar PV module cost should probably reach USD 1.0 per watt by 2011 and reach USD 0.7 per Watt by 2020.
First Solar with the outstanding CdTe technology is still the cost leader in the PV market. Although taking their cost leadership, First Solar seemed to be quite conservative to expand their capacity in 2010. With the solid solar PV demand expectation in the coming years, First Solar has decided to expand their capacity more aggressively in 2011 and in 2012. With the competitive CdTe thin-film PV module experience, PVinsights think that First Solar can reduce their module cost consequently in the future. PVinsights expect that First Solar should reach USD 0.6 per watt in 2015 and USD 0.5 per Watt in 2010.
<![if !vml]>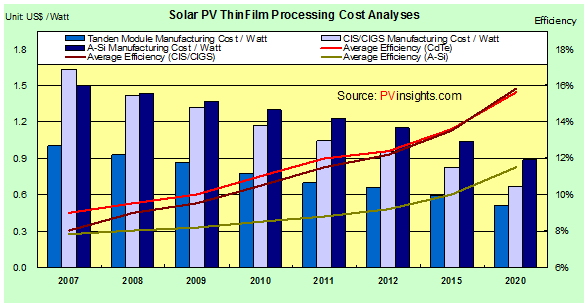 <![endif]>
A-Si Thin-Film is still suffering from lower conversion efficiency. Although Japanese Thin-Film PV module makers and equipment makers are still working hard on this technology improvement, A-Si Thin-Film PV module makers showed a standstill situation in the past years. Lots of Asian solar PV players chose A-Si Thin-Film technology, but most players can not really mass produce their A-Si Thin-Film module with the competitive cost. Moreover, some of A-Si Thin-Film have decided to give up A-Si Thin-Film technology and turned to CIS/CIGS Thin-Film Technology recently. Without the efficiency significant improvement, there will be more and more difficult to adopt A-Si Thin-Film technology in the future. PVinsights predict that A-Si Thin-Film technology will still have the efficiency improvement but the cost and the efficiency of the A-Si Thin-Film technology can not compete with CdTe and CIS/CIGS Thin-Film technology in the future.
Poly-Silicon price will also influence Thin-Film technology development or expansion. After Asian crystalline solar PV players aggressively contribute their lower cost manufacturing ability to the PV market, the manufacturing cost without considering poly-silicon market price will be possible to be lower than US$ 1.0 per watt. Furthermore, poly-silicon price is still the most important price factor to crystalline solar PV module cost. Once if poly-silicon price can be lower than USD40 per Kg, crystalline will be possible to have reach USD1.0 per watt. The crystalline solar PV module cost will seriously impact Thin-Film technology development, especially for CIS/CIGS and A-Si technology.